I hope you readers are sat down, because for this week's blog I actually have some pictures of some models I've actually been painting!
It is early stages so far, but I present to you the beginnings of my Dark Elf Blood Bowl team, the Har Ganeth Blades!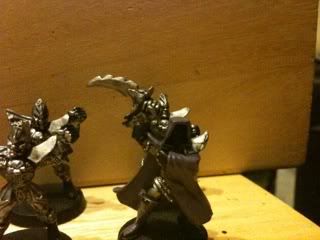 I'm entering the club's mini league, and whilst I had originally intended to use my Dwarfs, I was unable to find them when I wanted to start painting, but knew where these guys were, so went with them instead. No worries though as I like using them and had gotten pretty good with them on the PC game which essentially follows the majority of the rules!
I'm going for a fairly balanced and safe starting team with a couple of re-rolls and an apothecary to help me with the fact that I have the minimum 11 players in the team. The team itself will be two Witch Elves, 2 Blitzers and the rest linemen. It may take some time for them to get going, but hopefully I'll prove to be a fairly elite team once they do!
So now I need to halve my team between painting these guys up and getting used to using them again by gaming on the pc!
Exciting times!
Elsewhere this last week, I had an enjoyable game against a new player using the Warriors of Chaos verses his Vampire Counts. In the end, we called it a draw as we ran out of time, but I think it was heading in his direction to be fair. Although I wasn't exactly going for a win, he was a pretty sharp tactician, so with a bit of practice he'll do well with them!